Welcome to the world of Estella Elisheva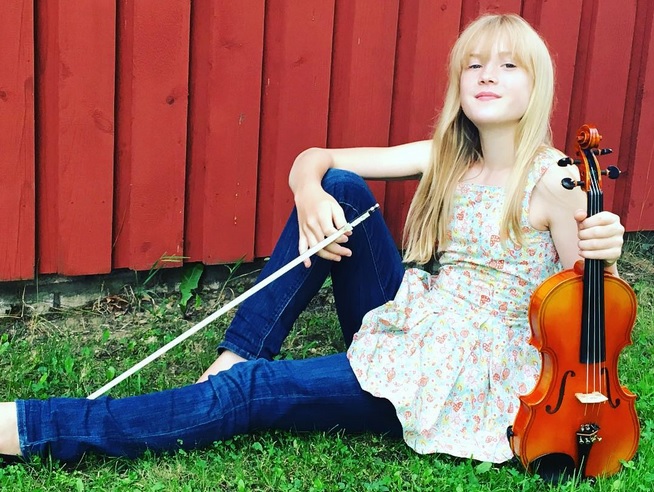 Practicing violin: Playing Despacito (by Luis Fontin ft Daddy Yankee)
"Despacito" (American Spanish: [despa'sito]; English: "Slowly") is a song by Puerto Rican singer Luis Fonsi featuring Puerto Rican rapper Daddy Yankee from Fonsi's upcoming studio album. On January 12, 2017, Universal Music Latin released "Despacito" and its music video, which shows both artists performing the song in La Perla neighborhood of Old San Juan, Puerto Rico and the local bar La Factoría. The song was written by Fonsi, Erika Ender, and Daddy Yankee, and was produced by Mauricio Rengifo and Andrés Torres. A remix version featuring Canadian singer Justin Bieber was released on April 17, 2017, which helped to improve the song's chart performance in numerous countries, including various number-one positions. "Despacito" has been widely credited by music journalists as being instrumental in popularizing Spanish-language pop music in the mainstream market again.
It is a reggaeton and Latin pop song composed in common time with lyrics about having a sexual relationship, performed in a smooth and romantic way. Commercially, the song topped the charts of 47 countries and reached the top 10 of six others, making it both Fonsi's and Daddy Yankee's most successful single to date. In the United States, it became the first song primarily in Spanish to top the Billboard Hot 100 since "Macarena" (Bayside Boys Mix) in 1996, subsequently tying the longest-reigning number one on the Billboard Hot 100 with 16 weeks, as well as becoming the longest-reigning number one on the Hot Latin Songs chart with 55 weeks. It also became the first Latin song to receive a diamond certification by the Recording Industry Association of America. In August 2017, the official music video for "Despacito" became the most-viewed YouTube video of all time after receiving its three billionth view. It became the first video on the site to reach the milestones of three, four, and five billion views.
Upon its release, "Despacito" received generally favourable reviews from music critics, who praised the fusion between Latin and urban rhythms, its catchiness, and its text painting. It has received Latin Grammy Awards for Record of the Year, Song of the Year, Best Urban Fusion/Performance, and Best Short Form Music Video at the 18th Latin Grammy Awards. The remix version has received three Grammy Awards nominations for Record of the Year, Song of the Year, and Best Pop Duo/Group Performance at the 60th Grammy Awards. "Despacito" has been also ranked among the best Latin songs of all time and the best songs of 2017 by various publications, which referred to it as one of the most successful Spanish-language tracks in pop music history.
Background
After two years without releasing new music, Luis Fonsi wanted to create "a fun track that had that Latin feel with a melody that I feel very comfortable singing and that will make people just dance." The lyrics were born in late 2015 in Fonsi's house after he expressed his desire to record a "swinging song" for his new album. Brazilian-Panamenian singer and songwriter Erika Ender, a Latin Grammy Award-winner, went to Luis Fonsi's house in Miami, who said to her that he woke up mulling about "writing a song called 'Despacito'." Fonsi sang the lines "Vamos a hacerlo en una playa en Puerto Rico", Ender replied "Hasta que las olas griten 'Ay Bendito'" and then they began to build the song. The Puerto Rico line was moved to the end of the song in order to not sound "so regional" and they started writing a story.
Fonsi originally composed "Despacito" as a cumbia and pop song with lyrics written as a ballad, but began to consider giving it an "urban injection" and contacted reggaeton artist Daddy Yankee through WhatsApp, who agreed to collaborate on the song after Fonsi played him the demo. Prior to collaborating on "Despacito", Fonsi and Daddy Yankee had worked together on "Una Oportunidad", released digitally in 2010. Daddy Yankee improvised his verse while thinking about his father playing bongos at his house, citing that as "percussion attacks," and wrote the post-chorus or hook. They recorded the song in Miami in 2016. It was produced by Mauricio Rengifo and Andrés Torres; the former is known as a member of Colombian pop duo Cali & El Dandee and the latter is known for previously working with David Bisbal, Thalía, and Ricky Martin, among various Latin acts.
Originally, Luis Fonsi focused on other songs of his album after making the demo of "Despacito". Andrés Torres said that the track "kept getting postponed" because "there was always some issue with [it]." After showing the demo to his producers, they and Fonsi decided to focus on "Despacito" and leave the other works aside. He stated that both Daddy Yankee and he were surprised after hearing the final song because it sounded "powerful, fresh and different." Luis Fonsi said that he does not consider it a reggaeton song but feels that "it does have a reggaeton energy and an subtle urban beat." He also affirmed that Daddy Yankee's work was a plus to the song because "it needed that explosion that only he can bring to the table." Mauricio Rengifo expressed that the song "really took 100 percent shape the day Yankee recorded." Ender stated that the track "went through several arrangements" until Fonsi got "exactly the arrangement he wanted."
Fonsi stated that he made "Despacito" a danceable song because "Latinos are known for being happy people" and that he feels the need of happy music. He added that the "urban feel" in the song's rhythm is the type that "[us Latinos] breathe in and out" and that it is "a synonym of party." According to him, "Despacito" is a very melodic song that can adapt well to many other music genres. In an interview with Billboard magazine in April 2017, Erika Ender stated that the track "made a special connection" and that the collaboration with Daddy Yankee was "a great idea." She also said that because of the sensual nature of the song, they "needed to be responsible with a good lyric" and that her approach to writing for Fonsi was "to take care of how to say things with a good taste." During the 2017 Billboard Latin Music Conference, American singer and songwriter Nicky Jam revealed that the original version of "Despacito" featured him instead of Daddy Yankee, but had to decline due to the song's release interfering with the launch of his album Fénix.
---
---