Welcome to the world of Estella Elisheva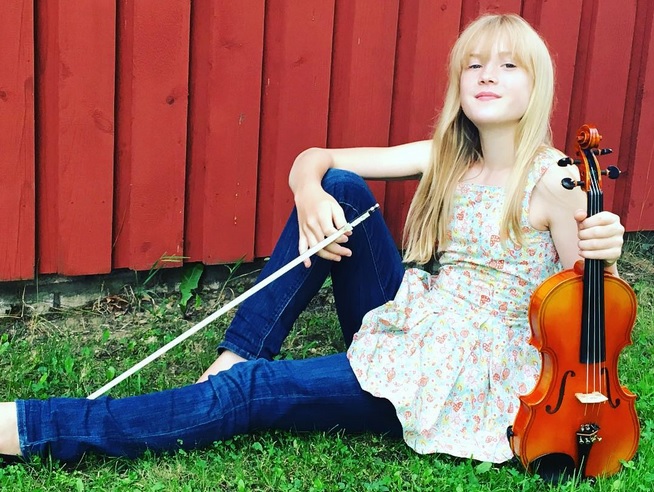 Here are some of the most frequently asked questions I receive. If you can't find an answer to something here, check out my news posts for other topics and information!
Q: How old are you and where are you from?
A: I am 12 years old. I am from Estonia.
Q: When is your birthday?
A: 16 May 2006
Q: How long have you been playing the violin?
A: I started pretty late – at the age of 7. I have been playing for four years.
Q: How long have you been singing?
A:  I have been singing on and off for about 6 years.
Q: How often do you rehearse?
A: I try to rehearse at least 5 times a week. Twice a week I have solfège and two-three times a week I practice with the teacher. I also play and rehearse with orchestra.
Q: What do you like to do besides playing the violin?
A: Musically, I love to try to compose my own music. I would like to write a concerto for violin and orchestra. I have a vision and many beautiful melodies in my head, but it is not complete yet. I also love singing.  Non-musically, I love ballroom dancing, acting and art. I also enjoy visiting concerts and playing with my cat!
Q: How many languages do you speak? What are they? Which is your first language?
A: My first language is Estonian. I also speak good Russian and have learned English and Hebrew for five years.
Q: Do you have brothers or sisters?
A: Yes, I have one younger sister, her name is Ivanka Shoshana.
Q: What would you like to be doing five years from now? What are your long-term goals – how are you preparing yourself to achieve them?
A: In 5 years time I wish to practice and learn a lot and find myself a great producer! My long-term goals are big! Dreaming is my favourite thing to do! I dream to compose my own music (both full-length operas and pop-music) – write them, play them on the violin and also sing them! I also dream to write film music.  I dream to make collaboration with world famous Opera Theatre´s and I also like Disney, I dream to make a lot of interesting collaborations with talented people! I wish to build my own music wonderland and make magic! But mainly I try to grow myself as a person, as a violinist, as a musician. I hope to make the world a better place with music because music is the voice of my soul & music is the strongest form of MAGIC!
01.Dec.2018
Save
Save