Welcome to the world of Estella Elisheva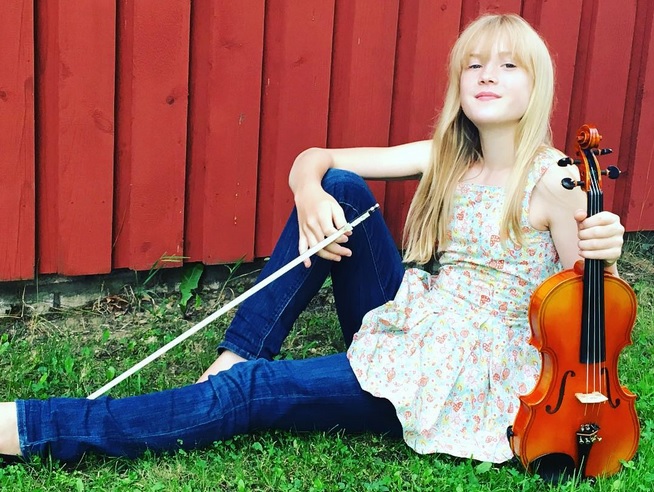 Practicing violin: Playing Concerto d-moll J.S. Bach
Johann Sebastian Bach (31 March [O.S. 21 March] 1685 – 28 July 1750) was a German composer and musician of the Baroque period. He is known for instrumental compositions such as the Brandenburg Concertos and the Goldberg Variations as well as for vocal music such as the St Matthew Passion and the Mass in B minor. Since the 19th-century Bach Revival he has been generally regarded as one of the greatest composers of all time.
The Bach family already counted several composers when Johann Sebastian was born as the last child of a city musician in Eisenach. After becoming an orphan at age 10, he lived for five years with his eldest brother, after which he continued his musical development in Lüneburg. From 1703 he was back in Thuringia, working as a musician for Protestant churches in Arnstadt and Mühlhausen and, for longer stretches of time, at courts in Weimar—where he expanded his repertoire for the organ—and Köthen—where he was mostly engaged with chamber music. From 1723 he was employed as Thomaskantor (cantor at St. Thomas) in Leipzig. He composed music for the principal Lutheran churches of the city, and for its university's student ensemble Collegium Musicum. From 1726 he published some of his keyboard and organ music. In Leipzig, as had happened in some of his earlier positions, he had a difficult relation with his employer, a situation that was little remedied when he was granted the title of court composer by the Elector of Saxony and King of Poland in 1736. In the last decades of his life he reworked and extended many of his earlier compositions. He died of complications after eye surgery in 1750.
Bach enriched established German styles through his mastery of counterpoint, harmonic and motivic organisation, and his adaptation of rhythms, forms, and textures from abroad, particularly from Italy and France. Bach's compositions include hundreds of cantatas, both sacred and secular. He composed Latin church music, Passions, oratorios, and motets. He often adopted Lutheran hymns, not only in his larger vocal works, but for instance also in his four-part chorales and his sacred songs. He wrote extensively for organ and for other keyboard instruments. He composed concertos, for instance for violin and for harpsichord, and suites, as chamber music as well as for orchestra. Many of his works employ the genres of canon and fugue.
Throughout the 18th century Bach was mostly renowned as an organist, while his keyboard music, such as The Well-Tempered Clavier, was appreciated for its didactic qualities. The 19th century saw the publication of some major Bach biographies, and by the end of that century all of his known music had been printed. Dissemination of scholarship on the composer continued through periodicals and websites exclusively devoted to him, and other publications such as the Bach-Werke-Verzeichnis (BWV, a numbered catalogue of his works) and new critical editions of his compositions. His music was further popularised through a multitude of arrangements, including for instance the Air on the G String, and of recordings, for instance three different box sets with complete performances of the composer's works marking the 250th anniversary of his death.
Life
Bach was born in 1685 in Eisenach, in the duchy of Saxe-Eisenach, into a great musical family. His father, Johann Ambrosius Bach, was the director of the town musicians, and all of his uncles were professional musicians. His father probably taught him to play the violin and harpsichord, and his brother Johann Christoph Bach taught him the clavichord and exposed him to much contemporary music. Apparently at his own initiative, Bach attended St. Michael's School in Lüneburg for two years. After graduating he held several musical posts across Germany: he served as Kapellmeister (director of music) to Leopold, Prince of Anhalt-Köthen, and as Thomaskantor in Leipzig, a position of music director at the main Lutheran churches and educator at the Thomasschule. He received the title of "Royal Court Composer" from Augustus III in 1736. Bach's health and vision declined in 1749, and he died on 28 July 1750.
Musical style
To a large extent, Bach's musical style fits in the conventions of his day, which is the final stage of the baroque style. When his contemporaries such as Handel, Telemann and Vivaldi wrote concertos he did so too. When they wrote suites, he did so too. Similar with recitatives followed by da capo arias, four-part choral music, use of basso continuo etc. The specifics of his style lie with characteristics such as his skill in contrapuntal invention and motivic control and his talent for writing tightly woven music of powerful sonority. From an early age, he imbued himself with the compositions of his contemporaries and of prior generations, all of what was available from European composers, such as the French, the Italian, and those from all parts of Germany, and there is little of it that didn't appear in his own music.
Religious music was at the centre of Bach's output for much of his life. The hundreds of sacred works he created are usually seen as manifesting not just his craft but a truly devout relationship with God. He had taught Luther's Small Catechism as the Thomaskantor in Leipzig, and some of his pieces represent it. The Lutheran chorale was the basis of much of his work. In elaborating these hymns into his chorale preludes, he wrote more cogent and tightly integrated works than most, even when they were massive and lengthy. The large-scale structure of every major Bach sacred vocal work is evidence of subtle, elaborate planning to create a religiously and musically powerful expression. For example, the St Matthew Passion, like other works of its kind, illustrated the Passion with Bible text reflected in recitatives, arias, choruses, and chorales, but in crafting this work, Bach created an overall experience that has been found over the centuries since to be both musically thrilling and spiritually profound.
Bach published or carefully compiled in manuscript many collections of pieces that explored the range of artistic and technical possibilities inherent in almost every genre of his time except opera. For example, The Well-Tempered Clavier comprises two books, each of which presents a prelude and fugue in every major and minor key, displaying a dizzying variety of structural, contrapuntal and fugal techniques.
---
---