Welcome to the world of Estella Elisheva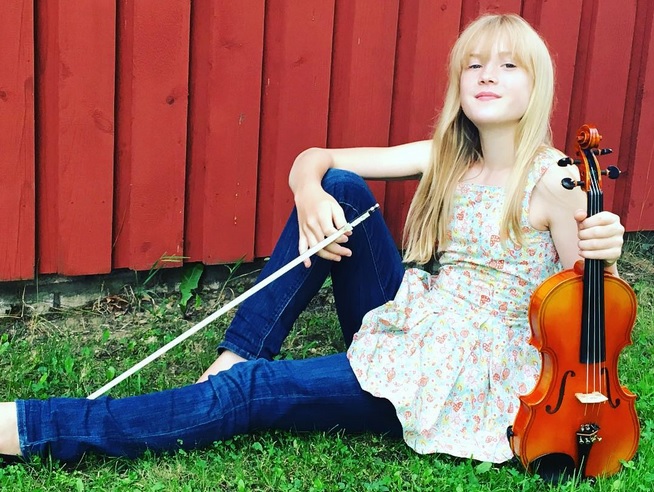 Practicing violin: Playing The Phantom of the Opera by Andrew Lloyd Webber
About The Phantom of the Opera
The Phantom of the Opera (French: Le Fantôme de l'Opéra) is a novel by French writer Gaston Leroux. It was first published as a serialization in Le Gaulois from 23 September 1909, to 8 January 1910. It was published in volume form in late March 1910 by Pierre Lafitte. The novel is partly inspired by historical events at the Paris Opera during the nineteenth century and an apocryphal tale concerning the use of a former ballet pupil's skeleton in Carl Maria von Weber's 1841 production of Der Freischütz. It has been successfully adapted into various stage and film adaptations, most notable of which are the 1925 film depiction featuring Lon Chaney, and Andrew Lloyd Webber's 1986 musical.
History behind the novel
Leroux first decided he would become a lawyer, but after he spent his inheritance gambling he became a reporter for L'Echo de Paris. At the paper he was asked to write about and critique dramas, as well as being a courtroom reporter. With his job, he was able to travel frequently, but then he came back to Paris where he became a writer. Because of his fascination with both Edgar Allan Poe and Sir Arthur Conan Doyle, he wrote a detective mystery entitled The Mystery of the Yellow Room in 1907, and four years later he published Le Fantôme de l'Opéra. The novel was first published within newspapers before finally being published as a novel in 1911.
The setting of The Phantom of the Opera came from an actual Paris opera house that Leroux had heard the rumors about from the time the opera house was finished. The details about the Palais Garnier, and rumors surrounding it, are closely linked in Leroux's writing. The underground water tank that he had written about is accurate to this opera house, and it is still used for training firefighters. The mysteries that Leroux uses in his novel about the phantom are still mysteries.
The Phantom of the Opera's origins came from Leroux's curiosity with the phantom being real. In the prologue he tells the readers about the phantom and the research that he did to prove the truth of the ghost. His findings connected the corpse from the opera house to the Persian phantom himself.  The claims from the prologue of his novel were ones that Leroux held onto even up until his death in 1927.
Plot summary
In Paris in the 1880s, the Palais Garnier opera house is believed to be haunted by an entity known as the Phantom of the Opera, or simply the Opera Ghost. A stagehand named Joseph Buquet is found hanged and the rope around his neck goes missing. At a gala performance for the retirement of the opera house's two managers, a young little-known Swedish soprano, Christine Daaé, is called upon to sing in the place of the Opera's leading soprano, Carlotta, who is ill, and her performance is an astonishing success. The Vicomte Raoul de Chagny, who was present at the performance, recognizes her as his childhood playmate and recalls his love for her. He attempts to visit her backstage, where he hears a man complimenting her from inside her dressing room. He investigates the room once Christine leaves, only to find it empty.
At Perros-Guirec, Christine meets with Raoul, who confronts her about the voice he heard in her room. Christine tells him she has been tutored by the Angel of Music, whom her father used to tell them about. When Raoul suggests that she might be the victim of a prank, she storms off. Christine visits her father's grave one night, where a mysterious figure appears and plays the violin for her. Raoul attempts to confront it but is attacked and knocked out in the process.
Back at the Palais Garnier, the new managers receive a letter from the Phantom demanding that they allow Christine to perform the lead role of Marguerite in Faust, and that box 5 be left empty for his use, lest they perform in a house with a curse on it. The managers ignore his demands as a prank, resulting in disastrous consequences: Carlotta ends up croaking like a toad, and the chandelier suddenly drops into the audience, killing a spectator. The Phantom, having abducted Christine from her dressing room, reveals himself as a deformed man called Erik. Erik intends to keep her in his lair with him for a few days, but she causes him to change his plans when she unmasks him and, to the horror of both, beholds his noseless, lipless, sunken-eyed face, which resembles a skull dried up by the centuries, covered in yellowed dead flesh.
Fearing that she will leave him, he decides to keep her with him forever, but when Christine requests release after two weeks, he agrees on the condition that she wear his ring and be faithful to him. On the roof of the opera house, Christine tells Raoul about her abduction and makes Raoul promise to take her away to a place where Erik can never find her, even if she resists. Raoul tells Christine he will act on his promise the next day, to which she agrees. However, Christine sympathizes with Erik and decides to sing for him one last time as a means of saying goodbye. Unbeknownst to Christine and Raoul, Erik has been watching them and overheard their whole conversation.
The following night, the enraged and jealous Erik abducts Christine during a production of Faust and tries to force her to marry him. Raoul is led by a mysterious opera regular known as "The Persian" into Erik's secret lair deep in the bowels of the opera house, but they end up trapped in a mirrored room by Erik, who threatens that unless Christine agrees to marry him, he will kill them and everyone in the Opera House by using explosives. Christine agrees to marry Erik. Erik initially tries to drown Raoul and the Persian, using the water which would have been used to douse the explosives, but Christine begs and offers to be his "living bride", promising him not to kill herself after becoming his bride, as she had both contemplated and attempted earlier in the book. Erik eventually releases Raoul and the Persian from his torture chamber.
When Erik is alone with Christine, he lifts his mask to kiss her on her forehead and is given a kiss back. Erik reveals that he has never received a kiss, not even from his own mother, nor has been allowed to give one and is overcome with emotion. He and Christine then cry together and their tears "mingle". Erik later says that he has never felt so close to another human being. He allows the Persian and Raoul to escape, though not before making Christine promise that she will visit him on his death day, and return the gold ring he gave her. He also makes the Persian promise that afterward he will go to the newspaper and report his death, as he will die soon and will die "of love". Indeed, sometime later Christine returns to Erik's lair, buries him somewhere he will never be found (by Erik's request) and returns the gold ring. Afterward, a local newspaper runs the simple note: "Erik is dead". Christine and Raoul (who finds out that Erik has killed his older brother) elope together, never to return.
Passages narrated directly by the Persian and the final chapter piece together Erik's life: the son of a construction business owner deformed from birth, he ran away from his native Normandy to work in fairs and in caravans, schooling himself in the arts of the circus across Europe and Asia, and eventually building trick palaces in Persia and Turkey. Eventually, he returned to France and, wearing a mask, started his own construction business. After being subcontracted to work on the foundations of the Palais Garnier, Erik had discreetly built himself a lair to disappear in, complete with hidden passages and other tricks that allowed him to spy on the managers.
Andrew Lloyd Webber, Baron Lloyd-Webber (born 22 March 1948) is an English composer and impresario of musical theatre. Several of his musicals have run for more than a decade both in the West End and on Broadway. He has composed 13 musicals, a song cycle, a set of variations, two film scores, and a Latin Requiem Mass. Several of his songs have been widely recorded and were hits outside of their parent musicals, notably "The Music of the Night" and "All I Ask of You" from The Phantom of the Opera, "I Don't Know How to Love Him" from Jesus Christ Superstar, "Don't Cry for Me, Argentina" from Evita, "Any Dream Will Do" from Joseph and the Amazing Technicolor Dreamcoat and "Memory" from Cats. In 2001 The New York Times referred to him as "the most commercially successful composer in history". Ranked the "fifth most powerful person in British culture" by The Daily Telegraph in 2008, the lyricist Don Black stated "Andrew more or less single-handedly reinvented the musical."
He has received a number of awards, including a knighthood in 1992, followed by a peerage from Queen Elizabeth II for services to Music, six Tonys, three Grammys (as well as the Grammy Legend Award), an Academy Award, fourteen Ivor Novello Awards, seven Olivier Awards, a Golden Globe, a Brit Award, the 2006 Kennedy Center Honors, and the 2008 Classic Brit Award for Outstanding Contribution to Music. He has a star on the Hollywood Walk of Fame, is an inductee into the Songwriter's Hall of Fame, and is a fellow of the British Academy of Songwriters, Composers and Authors.
His company, the Really Useful Group, is one of the largest theatre operators in London. Producers in several parts of the UK have staged productions, including national tours, of the Lloyd Webber musicals under licence from the Really Useful Group. Lloyd Webber is also the president of the Arts Educational Schools London, a performing arts school located in Chiswick, West London. He is involved in a number of charitable activities, including the Elton John AIDS Foundation, Nordoff Robbins, Prostate Cancer UK and War Child. In 1992 he set up the Andrew Lloyd Webber Foundation which supports the arts, culture and heritage in the UK.
Early life
Andrew Lloyd Webber was born in Kensington, London, the elder son of William Lloyd Webber (1914–1982), a composer and organist, and Jean Hermione Johnstone (1921–1993), a violinist and pianist. His younger brother, Julian Lloyd Webber, has had a notable career as a solo cellist.
Lloyd Webber started writing his own music at a young age, a suite of six pieces at the age of nine. He also put on "productions" with Julian and his Aunt Viola in his toy theatre (which he built at Viola's suggestion). His aunt Viola, an actress, took him to see many of her shows and through the stage door into the world of the theatre. He also had originally set music to Old Possum's Book of Practical Cats at the age of 15.
In 1965, Lloyd Webber was a Queen's Scholar at Westminster School and studied history for a term at Magdalen College, Oxford, although he abandoned the course in the winter of 1965 to study at the Royal College of Music and pursue his interest in musical theatre.
---
---