Welcome to the world of Estella Elisheva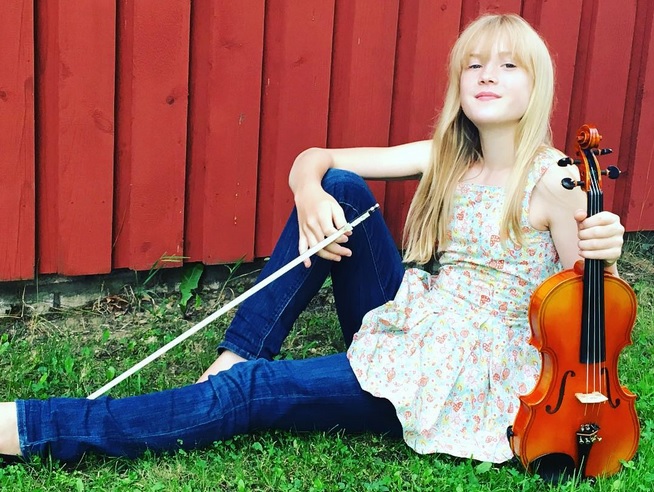 Practicing violin: Playing Harry Potter´s Hedwig Theme
About Hedwig's Theme
Hedwig's Theme is a leitmotif composed by John Williams for the film of Harry Potter and the Philosopher's Stone. It is better known for being the main theme of every Harry Potter film and is iconic for the wizarding world in general.
History
Hedwig's Theme was not a stand-alone track to begin with. It was featured as a tune in the track "Prologue" for Harry Potter and the Philosopher's Stone, before being played in the end credits. The theme was very well received and was interpolated in every Harry Potter film score by subsequent composers, such as Patrick Doyle, Nicholas Hooper, and Alexandre Desplat. It is also featured in the score to the last four Harry Potter video games composed by James Hannigan.
Hedwig's Theme has achieved significant pop culture status, featuring in ring tones, trailer music and other forms of multimedia. Most recently, it featured over the title of Fantastic Beasts and Where to Find Them (film), which indicates that it will stay the main theme of J.K. Rowling's Wizarding World.
John Towner Williams (born February 8, 1932) is an American composer, conductor, and pianist. With a career spanning over six decades, he has composed some of the most popular, recognizable, and critically acclaimed film scores in cinematic history, including those of the Star Wars series, Jaws, Close Encounters of the Third Kind, Superman, E.T. the Extra-Terrestrial, the Indiana Jones series, the first two Home Alone films, the first two Jurassic Park films, Schindler's List, and the first three Harry Potter films. Williams has been associated with director Steven Spielberg since 1974, composing music for all but three of his feature films. Other works by Williams include theme music for the 1984 Summer Olympic Games, NBC Sunday Night Football, "The Mission" theme used by NBC News and Seven News in Australia, the television series Lost in Space and Land of the Giants, and the incidental music for the first season of Gilligan's Island. Williams has also composed numerous classical concertos and other works for orchestral ensembles and solo instruments. From 1980 to 1993 he served as the Boston Pops's principal conductor, and is currently the orchestra's laureate conductor.
Williams has won 24 Grammy Awards, seven British Academy Film Awards, five Academy Awards, and four Golden Globe Awards. With 51 Academy Award nominations, Williams is the second most-nominated individual, after Walt Disney. In 2005, the American Film Institute selected Williams's score to 1977's Star Wars as the greatest American film score of all time. The soundtrack to Star Wars was additionally preserved by the Library of Congress into the National Recording Registry, for being "culturally, historically, or aesthetically significant". Williams was inducted into the Hollywood Bowl's Hall of Fame in 2000, and was a recipient of the Kennedy Center Honors in 2004 and the AFI Life Achievement Award in 2016. Williams composed the score for eight of the top twenty highest-grossing films at the U.S. box office (adjusted for inflation).
Early life and family
John Towner Williams was born on February 8, 1932 in Floral Park, New York, to Esther (née Towner) and Johnny Williams, a jazz percussionist who played with the Raymond Scott Quintet. Williams has said of his lineage, "My father was a Maine man—we were very close. My mother was from Boston. My father's parents ran a department store in Bangor, Maine, and my mother's father was a cabinetmaker. People with those roots are not inclined to be lazy."
In 1948, the Williams family moved to Los Angeles where John attended North Hollywood High School, graduating in 1950. He later attended the University of California, Los Angeles, and studied privately with the Italian composer Mario Castelnuovo-Tedesco. Williams had originally briefly attended Los Angeles City College for one semester as the school had a Studio Jazz Band.
In 1952, Williams was drafted into the U.S. Air Force, where he played the piano, brass and conducted and arranged music for The U.S. Air Force Band as part of his assignments. In a 2016 interview with the US Air Force band, he recounted having attended basic Air Force training at Lackland base (San Antonio, Texas) following which he served as a pianist and brass player, with secondary duties of making arrangements for three years. He also attended music courses at the University of Arizona as part of his service.
In 1955, following his Air Force service, Williams moved to New York City and entered Juilliard School where he studied piano with Rosina Lhévinne. During this time Williams worked as a jazz pianist in the city's many jazz clubs.
After moving to Los Angeles, he began working as a session musician, most notably for composer Henry Mancini. He worked with Mancini on the Peter Gunn soundtrack where his fellow musicians in the rhythm section included guitarist Bob Bain, bassist Rolly Bundock, and drummer Jack Sperling, many of whom were also featured on the Mr. Lucky television series.
Known as "Johnny" during the 1950s and early 1960s, Williams composed the music for many television programmes (including several episodes of M Squad), and served as music arranger and bandleader for a series of popular music albums with the singer Frankie Laine.
---
---