Welcome to the world of Estella Elisheva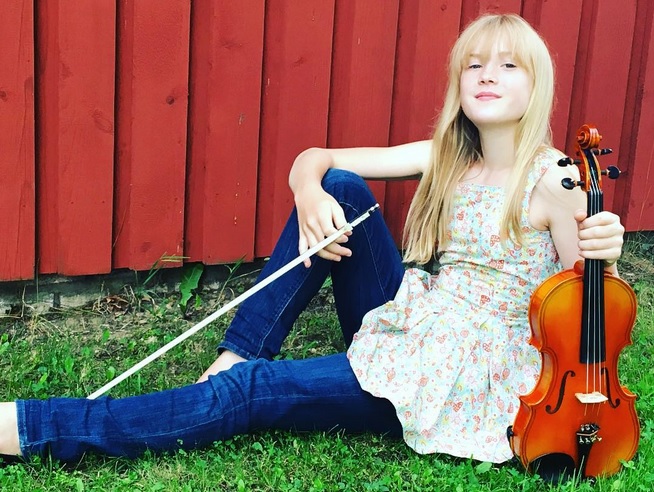 NordenBladet.ee: Klassikaraadio peab sünnipäeva! Viiulil astub üles ka 8-aastane Estella Elisheva!
NordenBladet — Klassikaraadio tähistab aprillikuus 20. sünnipäeva saatesarjaga raadiojaama ajaloost, uue kammerliku kontserdiseeriaga, Eesti parima klassikaplaadi valimise ning CD-plaadiga "Klassikaraadio tuleb külla". Sünnipäevahommiku pidulikul soovikontserdil astub viiulil üles ka 8-aastane Estella Elisheva viiuliõpetaja Kaari Klesment'i juhendamisel!
Klassikaraadio sünnipäeval, 1. aprillil kell 18.20 algab uus kontsertsari, mille avab eksklusiivne raadiokontsert toimetuse klaveritoas, kus musitseerib noor pianist ja saate "Klassikahommik" üks juhtidest Johan Randvere. Kohapeal mahub kontserti kuulama vaid kümme inimest, laiem publik saab kontserdist osa otseülekande vahendusel. Lisaks Johan Randverele esinevad aprillikuu kolmapäevadel veel Hedvig Hanson ja Andre Maaker, viiulimängija Maarja Nuut, laulja Mari Jürjens ja folkmuusik Mari Kalkun. Kontserdid salvestab oma vaatajatele ka ETV2.
Sünnipäevahommikul kell 10-14 on eetris pidulik soovikontsert, kuulajate soovid on oodatud telefoninumbril 611 4285 ja e-posti aadressil klassika@err.ee. Kuula otse VEEBIST!
6. aprillist algab saatesari "20 lugu Klassikaraadiost", kus räägitakse inimestega, kes on Klassikaraadiot teinud ning meenutatakse ülevamaid hetki toimetuse tööst. Sari on eetris tööpäeviti kell 10 läbi terve aprillikuu.
Jätkub Eesti klassikaplaadi valimine veebilehel http://klassikaraadio.err.ee/klassikaplaat. Oma lemmikuid saab valida 13. aprillini. Eesti parimad klassikaplaadid selguvad 14. aprillil.
Sünnipäevakuu lõpus ilmub CD-plaat "Klassikaraadio tuleb külla", kus Eesti klassikat mängivad noored interpreedid.
Samad muusikud esinesid ka kontserdisarjast "Klassikaraadio tuleb külla".
Klassikaraadio alustas tööd 1. aprillil 1995 ja on praegu suurima auditooriumiga ööpäevaringselt toimiv kultuurimeedium Eestis. Kuulata saab mitmesugust väärtmuusikat barokist džässini, etnomuusikast nüüdismuusikani, kultuurisaateid ja uudiseid. Oluline osa Klassikaraadio kavast on muusikasündmuste vahendamine otseülekandes, kontserdisaalidest Eestis ja kaugemal. Uusima auditooriumiuuringu andmetel kuulab Klassikaraadiot igal nädalal 55 000 inimest. Klassikaraadio peatoimetaja on Tiia Teder.
Klassikaraadio saatekava näete SIIT

OHMYGOSSIP soovib Klassikaraadiole palju õnne!
Source: Estonian media / NordenBladet.ee
---